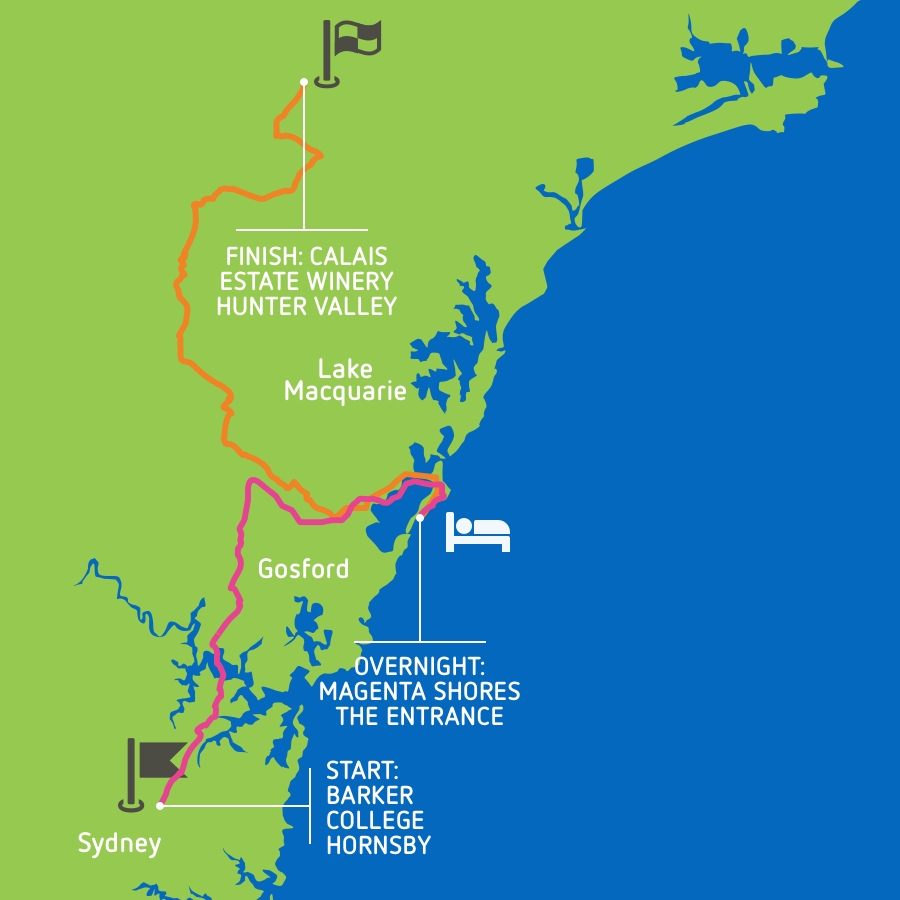 The Course
RIDE 250KM OVER 2 DAYS ALONG A SPECTACULAR COURSE FROM SYDNEY TO THE CALAIS ESTATE WINERY IN THE HUNTER VALLEY.
The inaugural Bike Ride for Brain Cancer was a huge success.
We're now looking forward to the next big ride in 2019.
DAY 1
Barker College to Magenta Shores
114km | 1299m Elevation

Day 1 commences at Barker College in Hornsby and will take riders along the scenic route of Old Pacific Highway through Berowra, Brooklyn, Mount White and Calga before turning onto Peats Ridge Road for a much deserved coffee break 58km from the start. Before Peats Ridge riders will take on the 4km Mount White Climb from Brooklyn to Mount White and regroup at the Road Warriors Café and again at Calga before heading to the Corrugated Café at Peats Ridge for a well earned coffee. From Peats Ridge and with caffeine in the system, riders will then head towards Kulnura on George Downs Road before turning right on Wisemans Ferry Road and then onto Dog Trap Road towards Ourimbah. From there, riders will hug the northern side of the Tuggerah Lake and pass through Tuggerawong and Norah Head. Lunch awaits riders at the Ark Café Norah Head around 107km from the start and only 7km from the finish. With food in their bellies and smiles on their faces, riders will then head to beautiful Magenta Shores for the night.

DAY 2
Magenta Shores to Calais Estate

132km | 1551m Elevation
Day 2 will see riders leave the coastal haven of Magenta Shores and once again hug the northern side of the Tuggerah Lake passing through Wyong and the stunning rural town of Yarramalong where a 4km climb awaits. The climb starts at around 43km into the day and will remind riders why they entered the BCBA Bike for Brain Cancer Ride. Sufferers of brain cancer fight day in day out as they battle the disease they never saw coming; riders will need to battle to make it to the top of the Yarramalong climb. Happy the hill is now behind them, riders will head towards Kulnura where a coffee awaits at Jerrys Gourmet Kitchen and Café at around the 51km mark. From there riders will cycle along George Down Road to Bucketty before turning onto Great North Road through Laguna. Lunch awaits riders at the lovely Mulla Villa Guest House Wollombi at the 91km mark and it will be important riders refuel, rest up and prepare themselves for the remaining 41km into the Hunter Valley and Calais Estate Winery.